Erect Clitoris
---
Image Caption : Female Genitalia Cross Section Showing Erect Clitoris: 3D visualization of a cross-section of the female genitalia reconstructed from scanned human data. Revealed are structures such as the mons pubis, the fatty eminence anterior to the pubic symphysis formed by the blending of the labia majora anteriorly. Enclosed within the labia majora are the labia minora which are thin skin folds which contain sebaceous glands. Superior to the labia majora is the clitoris, the main erectile organ in the female. The pea sized clitoris has one purpose only -- excitation - the product of extraordinary bioelectrics. It contains 8,000 nerve endings, twice as many as the penis and the most of any external structure in the body including fingers, lips and tongue. As in the penis, blood flows to the corpora cavernosa of the clitoris during an erection. However, unlike the penis, it contains no venous plexus to suspend the blood within, allowing it to distend and relax with ease to allow for multiple orgasms.
Clitoris
An erectile structure homologous with the penis, situated beneath the anterior labial commissure, partially hidden between the anterior ends of the labia minora.
National Center for Biotechnology Information, U.S. National Library of Medicine
EXTERNAL GENITALIA
The external genitalia are the accessory structures of the female reproductive system that are external to the vagina. They are also referred to as the vulva or pudendum. The external genitalia include the labia majora, mons pubis, labia minora, clitoris, and glands within the vestibule.
The clitoris is an erectile organ, similar to the male penis, that responds to sexual stimulation. Posterior to the clitoris, the urethra, vagina, paraurethral glands and greater vestibular glands open into the vestibule.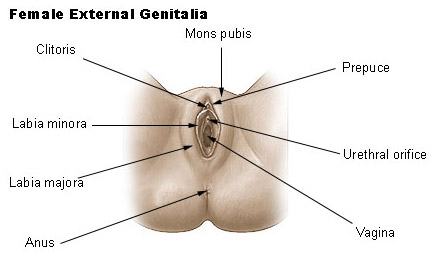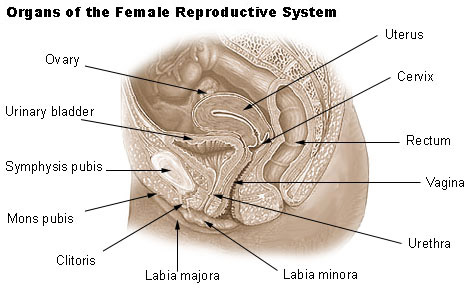 National Cancer Institute / NIH
---
Related Images
---
The material on this site is for informational purposes only and is not intended as medical advice. It should not be used to diagnose or treat any medical condition. Consult a licensed medical professional for the diagnosis and treatment of all medical conditions and before starting a new diet or exercise program. If you have a medical emergency, call 911 immediately.